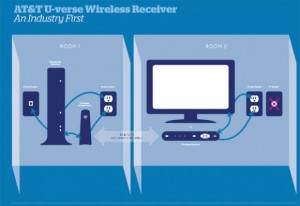 It's a sign of the times. Wireless is changing the way we interact with technology devices in our homes. Do you remember the old days when you had phone jacks around your house?  And then the cordless phone showed up with multiple handsets that you could place anywhere you wanted?
Now AT&T U-Verse is letting you avoid using coaxial or Ethernet cables to connect your various televisions throughout the house.  They just launched a new product called the "U-verse Wireless Receiver".  It's made by Cisco.
The U-verse wireless receiver gives you a lot more options when deciding where to watch TV.   Arrange your furniture however you want since your TV is no longer tied to an outlet.  You can now watch TV in rooms that have not been wired for TV such as a kitchen or outdoors.   If you have a special event or a party you can also move your TV temporarily for the occasion.  Or maybe you have a house guest that is sleeping in your basement.   Simply take one of your U-Verse wireless receivers and plug it into a TV in the guest room and they're good to go.
To check out current special offers from AT&T U-Verse click here.

{ 0 comments }